Landscape lighting costs an average of $3,500, with prices ranging from $2,100-$4,900 in the U.S. This total estimate does include materials, installation, and labor costs, according to LawnLove. Let's take a look at all the factors below that can influence the price of your landscape lighting needs.
Average Cost Of Landscape Lighting
Your overall cost will depend heavily on the type and amount of lights you choose. Any special features added will expand your budget. Most homeowners can expect to pay anywhere from $100-$250 per light fixture, depending on style, features, and quality. More elaborate landscape lighting designs can end up costing more than $7,000. It is quite possible to find a design you like for only a total of $500, though.
It's no secret that the costs of landscape lighting can vary widely. Some solar-powered lights may start at $50 each, with high-end LED lights costing $300-plus each. The average lighting cost is found somewhere in between, ranging from $100-$200 per light.
This price often includes material, installation, and labor costs. It does not include the cost of electricity, though, as this will be an additional cost depending on the type of lighting you wish to add to your landscape. Professional lighting installation will cost an average of $3,500, with prices ranging from $2,100-$4,900. These estimates include materials.
Here is a look at typical landscape lighting costs across the U.S. today:
Lowest Cost: $2,100
Average Cost: $3,500
Highest Cost: $4,900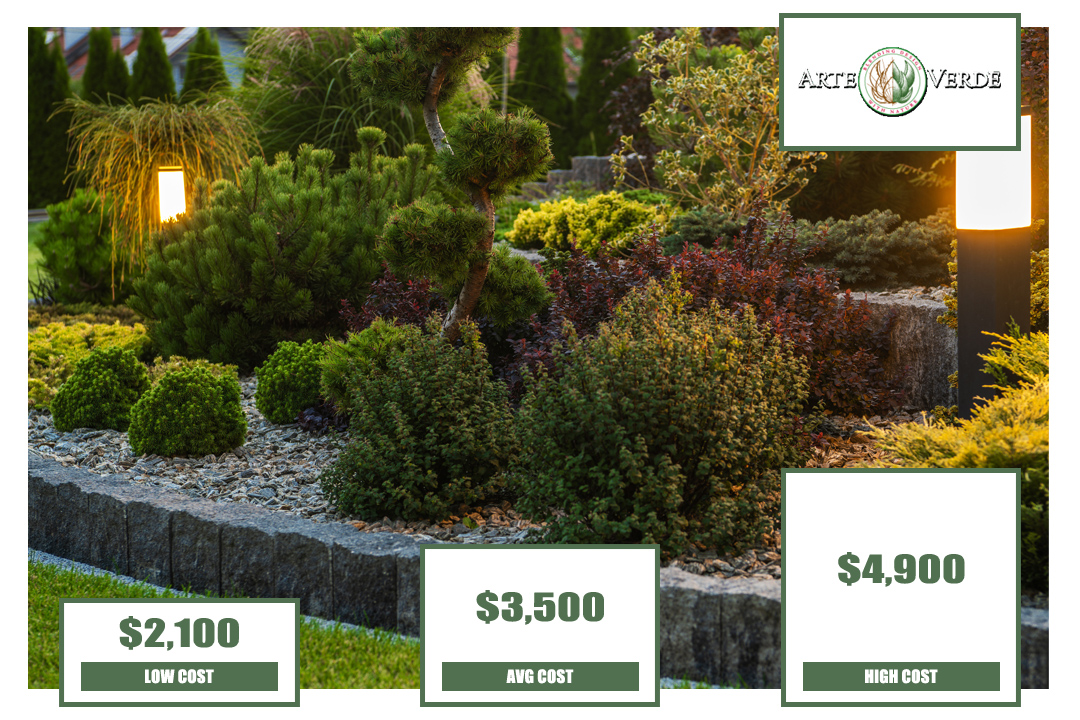 Landscape Lighting Cost Factors
Your final price tag greatly depends on light fixtures and a few other factors outlined below.
Number Of Light Fixtures
With light fixtures costing between $100-$200 each, a total of 10 fixtures will cost between $1,000-$2,000. For larger landscaping projects, 40 light fixtures can cost up to $7,000. Mid-range landscaping designs will call for 20-40 light fixtures, with an average cost of $3,500.
Type Of Light Fixtures
It's not just the amount of light fixtures, the type of fixtures can impact the bottom line, as well. These fixtures can range from just a few dollars to hundreds each. It all depends on the type of light chosen and the manufacturer.
String lights are usually less expensive alternatives, yet they are not as durable and need to replaced more often. A set of string lights will range from $80-$300. Outdoor flood lights are utilized to light up larger areas, costing between $70-$230 each.
Here's a look at light fixture price ranges:
Pathway Lights: $50-$150
String Lights: $80-$300
Low-Voltage Lights: $100-$150
Outdoor Wall Lights: $50-$250
Floodlights: $70-$230
Uplights: $100-$400
Downlights: $100-$350
In-Ground Landscape Lights: $85-$250
Bollard Lights: $250-$900
Outdoor Security Lights: $250-$450
*All estimates are according to Angi. Contact the team at Arte Verde today for more information!
Installation Area
The cost of landscape lighting will be affected by the area of installation. For example, pathway lights will cost between $50-$100 each. Outdoor structure lighting, meanwhile, will range from $160-$600. Deck and pool lights can be a bit costly, ranging from $85-$500 each.
Deck lights will most likely cost the most overall because there are many fixtures needed for adequate lighting. You will probably need to purchase at least 10 light fixtures and have them installed by an electrician. You could be looking at a final bill of $2,500 after installation.
Power Source Of Lighting
The type of power source you choose must be a factor in your initial budget. The three main types of lighting power sources are hardwired lights, solar-powered lights, and battery-operated lights.
Here are the average power source costs:
Solar-Powered: $50-$200 per light
Hardwired: $100-$200 per light
Battery-Operated: $50-$150 per light
Location
Costs will undoubtedly fluctuate based on location. Most projects will fall between $2,100-$4,900 total, as stated above. You can expect your project to cost more if you live in an area like New York City, which features higher costs of living.
Type Of Light Bulb
Once again, there are three main types of light bulbs used for landscape designs. This includes incandescent bulbs, halogen bulbs, and LED bulbs.
Let's look at the typical costs per bulb:
Incandescent: $0.75-$6
Halogen: $2-$5
LED: $2-$8
Wiring
A typical piece of lighting installation is digging holes or trenches to place wires beneath the ground. Installing electric wires will cost between $3-$5 per square foot. This includes both labor and materials.
Landscape Design
You can always hire a designer to help plan your landscape lighting layout. Hiring a designer ranges from $200-$500, depending on both size and complexity of the project.
Labor Cost
Leave all electrical work to the professionals, including wiring and installing new outlets. The labor of an electrician usually comes in between $45-$100 per hour. Small projects like installing pathway lights should only take an hour or two. Installing a new outdoor lighting system, though, can take approximately six hours.
Here are some average labor costs per hour:
Lowest Cost: $45
Average Cost: $72.50
Highest Cost: $100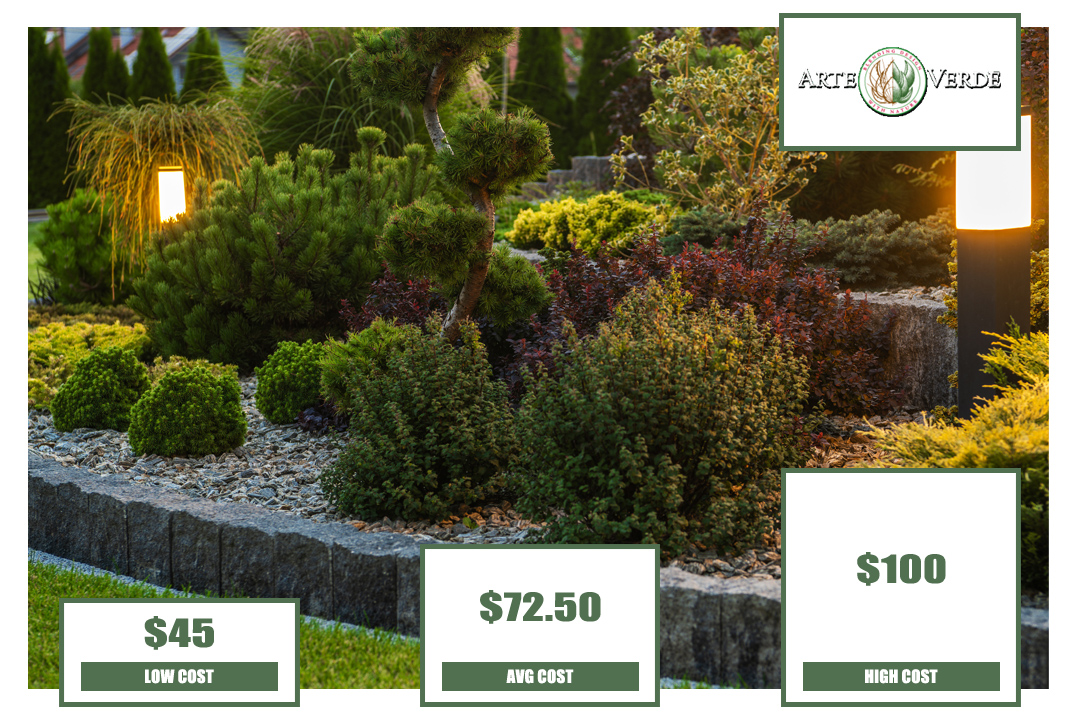 DIY Vs Professional Landscape Lighting Installation
Always hire a professional for this task if you do not feel comfortable with electrical work. Solar and battery-powered lights are an easy, DIY-friendly option that will not require any wiring. These lights are less expensive, but will not provide as much light as the alternative.
Of course, there will be a significant difference between the cost of DIY and professional installation. However, for the best results possible it is recommended to hire the professionals.
Here are the average costs of DIY vs professional installation for 10 light fixtures:
DIY Installation: $100-$1,500
Professional Installation: $1,000-$2,000
Landscape Lighting Services
Start creating your very own Landscape Lighting Project in Scottsdale or Phoenix, Arizona by giving Arte Verde a call today at (602) 618-0688 to schedule a free consultation!